Judge:
Paul Vick
Founder,
Paul Vick Architects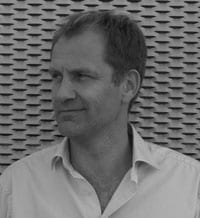 Judging for the Architecture Development Categories
Paul Vick is a professional architect (RIBA, ARB, FRSA) whose eponymous practice was shortlisted for London architecture Firm of the year 2015, an RICS Award and in 2013 The International Design and Architecture Awards for a low energy private house and an RIBA London Regional Award for a studio theatre. In 2011 he was shortlisted for Architect of the Year, Builder and Engineer Awards. Having trained at Cambridge University, Oxford Brookes, Washington DC and with a Masters final thesis based at Tsinghua University Beijing, Paul also has worked internationally.
His practice is now based in West London. Ongoing work includes a new 22,000 square foot daylight studio for some of the most well-known photographers in the field, change of use of offices and new build additions to St Paul's Knightsbridge. The practice retains its 100% planning permission record with listed and unlisted buildings and those in Conservation Areas as well as new build.
Other recent work includes designs for a 350-year-old global retailer near New Bond Street and an incubator for new businesses at Smithfield Market with Corporation of London and Innovation Warehouse.
At a time when it is unfashionable to have a world view, but never more necessary given the economic, environmental and demographic challenges, Paul's practice holds a belief in the power of knowledge, art and technology to achieve a better forward looking world. These the practice use to resolve problems clients have which are often historically accepted. The practice considers that the green agenda is resolvable and that there are always beautiful and ethical dimensions to make better buildings.
Our Judging Panel
The panel of judges for the International Property Awards is large and include judges from a variety of backgrounds and expertise. We have over 100 judges, divided up reviewing entries in all award categories. Each judge is allocated entries which match their areas of expertise.
Learn more about The judging Panel
The award & judging process
To enter the awards is easy, first step is to register using our online form.
Then it's a matter of completing and returning your entry packs, with your personal advisor on hand to help you at every step of the way.