Judge:
Jo Hamilton
Creative Director,
Jo Hamilton Interiors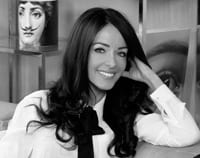 Judging for the Interior design Categories
Jo Hamilton is widely regarded as one of the UK's leading interior designers, noted for her confident grasp of colour, intelligent use of space and luxury aesthetic. She is also a respected public speaker, writer, design commentator, property finder and broadcaster.
Jo has been running her own interior design consultancy since 1995 and has been involved in many high-end developments in both Britain and overseas, including USA, Ibiza, UAE and Saudi Arabia.
Her reputation for excellence has resulted in projects ranging from exclusive city apartments to stylish country retreats; from bars, clubs and restaurants to homes, offices and hotels. She has also designed interiors for yachts and private jets.
Jo is 'resident interior designer' for Grand Designs Live, where she is also a key speaker/presenter and 'show ambassador' along with Channel Four stars Kevin McCloud, George Clarke and, more recently, Charlie Luxton. Further public speaking appointments have included Top Drawer and the International Property Awards itself.
She appears regularly in print media and on television, including the BBC, Metro, ITV high end London publication The Resident, UAE fashion magazine Elite Monde and Sky's Who'd Be a Billionaire?
Our Judging Panel
The panel of judges for the International Property Awards is large and include judges from a variety of backgrounds and expertise. We have over 100 judges, divided up reviewing entries in all award categories. Each judge is allocated entries which match their areas of expertise.
Learn more about The judging Panel
The award & judging process
To enter the awards is easy, first step is to register using our online form.
Then it's a matter of completing and returning your entry packs, with your personal advisor on hand to help you at every step of the way.