Judge:
Nishant Grover
Managing Director,
Oxford Acuity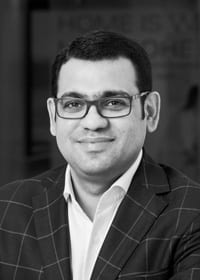 Judging for the Development Categories
Nishant Grover is the Founder of Oxford Acuity, a global business transformation and market expansion practice, which specializes in delivering shareholder value.
Nishant has held various senior leadership positions across Asia Pacific, mainly in high growth environments and private equity backed businesses.
In the immediate past, Nishant was the Chief Operating Officer of TCC Land/ Asset World Corporation, a member of the TCC Group, one of the largest conglomerates in Thailand. Apart from residential and commercial real estate, TCC Land/ Asset World Corporation is also one of the largest hotel owners in Asia, which was led by Nishant and readied for capital markets. While TCC Land/ Asset World Corporation owned and operated several hotels under its own brands, the company also owned hotels across most international brands – IHG, Marriott, Hilton, Banyan Tree, Hyatt, Okura, Starwood and Melia.
Prior to TCC Land/ Asset World Corporation, Nishant was the Chief Operating Officer, Asia for LIXIL Water Technology (LWT), the world's largest group in the sanitary ware industry and parent company for brands like Grohe, Inax, American Standard and Cobra. LWT was one of the four business groups at LIXIL of Japan. Nishant contributed to the growth of Grohe, which was acquired by LIXIL from private equity owners.
In previous life, Nishant consulted for various fortune 500 companies in Retail, FMCG, Electronics, Petroleum, Steel, Real Estate, F&B etc., based in the US, Europe, Africa and different parts of Asia.
A trained lawyer and an MBA from the University of Oxford, Nishant also contributes to various international bodies and seminars. Nishant is based in Bangkok.
Our Judging Panel
The panel of judges for the International Property Awards is large and include judges from a variety of backgrounds and expertise. We have over 100 judges, divided up reviewing entries in all award categories. Each judge is allocated entries which match their areas of expertise.
Learn more about The judging Panel
The award & judging process
To enter the awards is easy, first step is to register using our online form.
Then it's a matter of completing and returning your entry packs, with your personal advisor on hand to help you at every step of the way.