In English:
International Hotel Awards is one of the prestigious events in the world's hospitality and property industry. This award was developed to identify, highlight and appreciate the benefits of the global hospitality industry in various fields. In addition to hotel type and hotel type categories, there are also categories for the best hotel architecture, construction, interior design, marketing, and website. In total there are 17 categories to choose from in the winner determination. Competition starts from national level, then goes to regional, then the regional winner is automatically entered into the International Awards nomination.
The International Hotel Awards are considered a definitive award program and focus on the residential and commercial sectors. This event ultimately determines the best resorts and hotels in the world. Indonesian representative, Fairmont Jakarta won four awards at the International Hotel Awards 2018. The victory was announced at the beginning of May 2018 held in Bangkok.
The first award is Best Luxury Hotel in Indonesia or Best Luxury Hotel in Indonesia for Fairmont Jakarta located in prestigious Senayan Square area. The hotel features 308 rooms and suites, 108 Sky Suites, 10 restaurants, bars and lounges, and easy access to various places in Jakarta.
Secondly, Fairmont Jakarta has won Best Hotel Marketing in Indonesia and Best Hotel Marketing in Asia Pacific Region. The achievement was successfully achieved since this luxury hotel is actively held a prestigious event in Jakarta. In September 2017, Fairmont Jakarta commenced an annual event titled "When Jakarta Meets London" which is a collaboration with the legendary hotel of The Savoy, London. Fairmont Jakarta brings Executive Chef, Pastry Chef, and Mixologist from The Savoy to perform a series of different events every day of the week. Starting from British Afternoon Tea, Cocktail Night, "Be a Bond Girl Party", to the British gastronomy experience. Some partners who support the event include Bentley, Jaguar, The Time Place, Citibank, and Prestige Indonesia Magazine.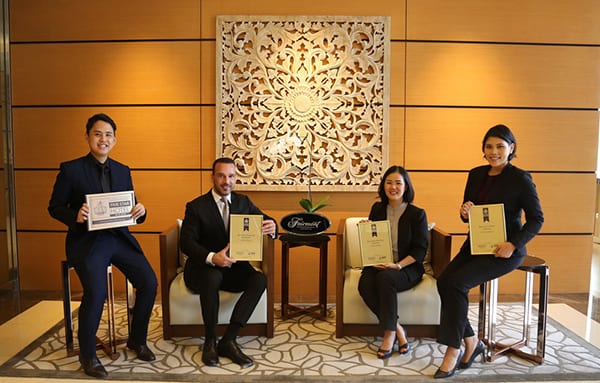 At the end of 2017, Fairmont Jakarta also collaborated with BVLGARI to present a special Christmas tree at Christmas Tree Lighting Ceremony. One part of this event is the collaboration between the hotel and Celebrity Chef Farah Quinn, which creates special Afternoon Tea products for year-end celebrations at Fairmont Jakarta. The cooperation with BVLGARI is continued in March 2018, where Peacock Lounge presents Afternoon Tea edition "Forever Love" which inspired from the latest fashion collection BVLGARI.
Recently, Fairmont Jakarta successfully held Royal Wedding Celebration to celebrate the marriage of Prince Harry and Meghan Markle. The event, which runs from May 18 to 20, consists of wedding exhibitions, fashion shows by Sebastian Gunawan and Wong Hang Distinguished Tailor. There is also Royal Afternoon Tea which also enliven live streaming directly from the wedding procession in London. During this event, Fairmont Jakarta showcases some masterpieces that are an attractive display for visitors. Among them are wedding cakes as high as 5 meters of famous designer creations, a replica of St. George's Chapel by leading wedding decorator, and also the latest Rolls-Royce Phantom VIII luxury car.
At the end of 2018, Fairmont Jakarta will hold a continuation of "When Jakarta Meets London" program, "When Jakarta Meets USA". These events are continuous efforts undertaken by Fairmont Hotel Jakarta, especially the marketing department to ensure stronger brand positioning of hotels.
Fourth, Fairmont Jakarta is awarded the International Five – Star Hotel Standard, where it has 488 rooms with a variety of luxurious facilities for visitors. (Aul)