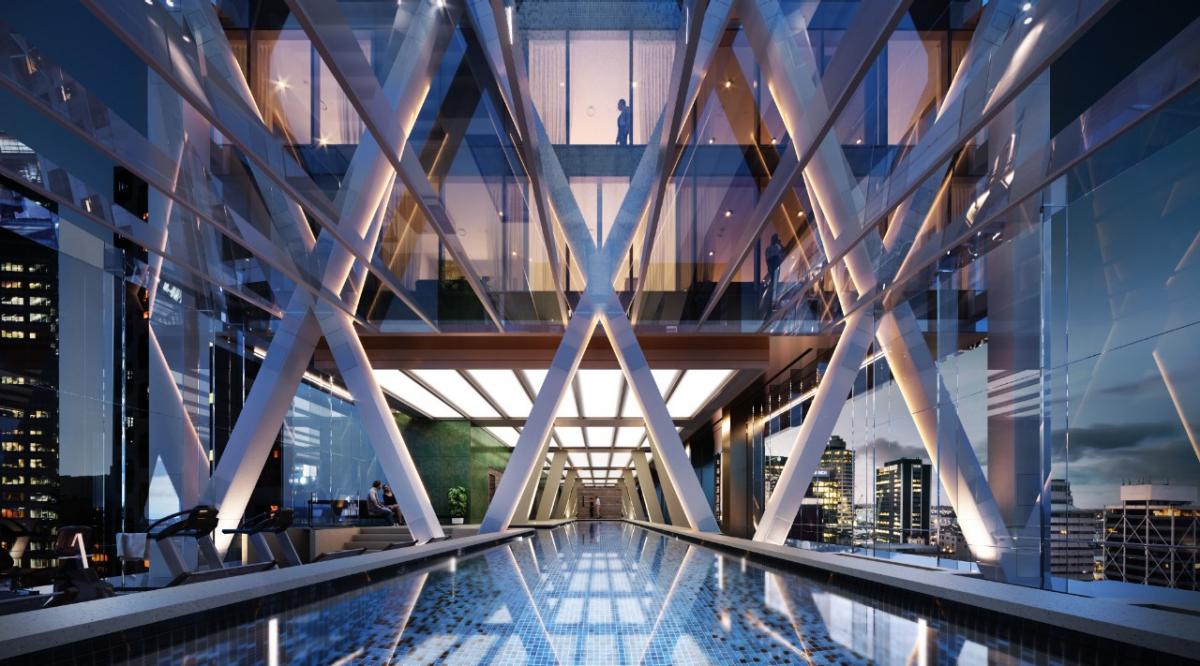 New 52-storey apartment & hotel complex example of city's blossoming design.
An international survey rated "future Auckland" ahead of future urban design plans for Sydney, Melbourne and Brisbane – and you only have to look at how Auckland's new face is already taking shape to see why.
Last year, WSP Opus's Global City rankings rated Auckland 13th out of 24 cities – ahead of not only the three Australian cities but Dubai, Edinburgh and Seoul – in an index measuring how cities are planned and responding to future challenges. The list was headed by Seattle, Copenhagen, Stockholm and New York, with Auckland just behind Toronto, London and Manchester.
Auckland Council design champion, Ludo Campbell-Reid, points to the $4 billion of government and council funding going into the inner city rail link and $14-15bn of private investment going into projects like Commercial Bay and the new 52-storey apartments and hotel complex, Seascape, due to be completed by 2022.
"That's happening now – today – but I think a lot of Aucklanders only see the workmen and the road cones," says Campbell-Reid. "They don't quite realise that a beautiful butterfly is about to emerge from this pupa. I think it will be a surprise for many."
In September, a small part of that emergence will begin when the basement concrete slab is poured for the 52-storey, diamond-shaped, $300m Seascape apartment development with an attached luxury hotel.
Although the 221-apartment development has not yet risen above the ground, let alone its full height of 187 metres, it is already winning awards.
Last month it won the Asia-Pacific's Best Residential High-rise Development New Zealand and Best Apartment/Condominium New Zealand at the International Property Awards, not just for its innovative architecture and design, but also for novel engineering. Big skyscrapers need deep and firm bases and Seascape's position near the waterfront means developer Shundi Customs will employ innovative techniques to ensure the building is safe, stable and water-tight.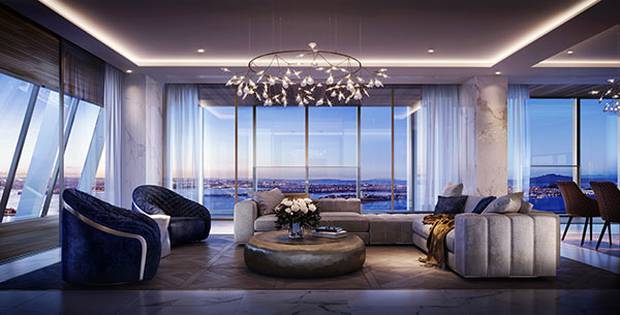 Campbell-Reid says the big-picture motivation behind the redevelopment of Auckland city is global competition and global attraction: "It's big business running a city and we are in competition with the likes of Toronto, Vancouver, Melbourne and Helsinki.
"We are all competing to attract investment and attracting smart talent [to power economies]. So we all want to make out cities as attractive to that talent as we can – and the transformation of our city downtown is vital.

"Seascape – with its apartments and hotel – is part of the contribution towards that; it will produce new residents living downtown and the hotel will attract tourists."
The essential nature of the downtown redevelopment could be seen by the fact that small geographic area produced 20 per cent of Auckland's GDP.
"It goes further than that," says Campbell-Reid. "It provides 7.4 per cent of New Zealand's GDP from 0.08 per cent of our entire surface area. It is well-known that the density of people working and living in a downtown area boosts the productivity of that area."
Seascape, in Customs St East, is uniquely placed not only to take advantage of Britomart, New Zealand's largest transport interchange, and the city rail link, its distinctive diamond-shaped architecture will help re-draw the Auckland skyline, says general manager of Customs, Harrison Shao.
It will be New Zealand's tallest residential tower and will bring to Auckland the same international living style as skyscraper apartments do in major cities round the world.
"The major cities of the world are not just about skyscrapers – they are about skyscraper apartments which provide great places to live, yes, but they also say a lot about the city that houses them," he says.
Campbell-Reid agrees: "Developers and other investors need to know that the city they are basing their investment on has vision and that the local council is spending money to realise that vision – so the developers know their project will have longevity and they can project that confidence back to their investors.
"Commercial Bay will change the way people look at our downtown," says Campbell-Reid, "and Seascape is right on its doorstep."
Commercial Bay's $1.5bn multi-use development of offices, retail and commercial space – about 10,000 people are expected to work in the new, 39-storey PWC tower alone – is expected to be completed by 2020. A second stage will see One Queen Street come about – a $298m mix of offices, a luxury hotel, retail, and bars and restaurants.
Auckland's regeneration is also spreading to the waterfront, Quay St, the Wynyard Quarter (including America's Cup preparations), and the "Access For Everyone" council plans that envisage fewer cars in downtown streets, more pedestrianisation, open spaces and room for the city to breathe.
Seascape's entry to this environment will see all apartments facing north, with fully enclosable balconies and ultra-clear glass, meaning outdoor living even on rainy or windy days. It will also house a residents-only health club, spa, garden bar, fitness area, retail and office space, with five levels of underground car parking on Customs Street East.
For the next generation of Aucklanders, the city centre will be a very different place, almost unrecognisable to those who know only the current shape and style – though an idea of the coming design and feel of the "new" Auckland will begin to be seen as Seascape rises from its foundations.