Salice, a world leader in the field of opening systems and fittings for furniture,has been announced as the 2018 Associate Sponsor for all regions of the world-renowned International Property Awards.
Italian based Salice supplies a range of more than 3,000 products to a worldwide network of subsidiaries, sole agents and distributors covering all areas of furniture production.The brand is one of most highly-regarded by small, medium-sized and large companies within the furniture industry serving kitchen and furniture producers in more than 87 countries.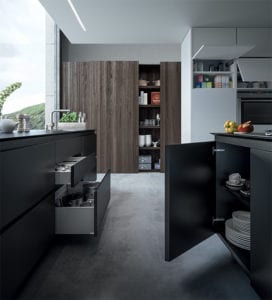 Salice CEO Massimo Salice says: "Salice is proud to be the Associate Sponsor of the International Property Awards 2018. We wish all the entrants success and look forward to meeting them at each event throughout the year. In addition, Salice is proud to support these awards and looks forward to supporting the winners' achievements throughout 2018."
The International Property Awards, now in their 25th year, are open to residential and commercialm property professionals from around the globe. They celebrate the highest levels of achievement by companies operating within the architecture, interior design, real estate and property developer sectors. The awards are judged by an independent panel of over 80 industry experts, chaired by four UK Lords.
Covering 48 different residential and commercial categories, regional heats are staged for Arabia, Europe, Africa, Canada, Central & South America, the Caribbean, USA, UK and Asia Pacific. These will be celebrated at gala presentation events in Bangkok, Dubai, London and Toronto during the course of the year.The next event will be on 3-4 May 2018 at the Marriott Marquis Queen's Park,
Bangkok, Thailand. Salice will be exhibiting their products at this event.
The top winners in each region will automatically be entered in to the overall international awards, culminating in a glittering awards ceremony, held at the Savoy Hotel London on the 3rd December.
International Property Awards CEO Stuart Shieldsays:"I am thrilled to welcome Saliceas the Associate Sponsor of the 2018 International Property Awards. It is a brand that holds a well-established position worldwide and is widely recognised and respected by many of our award winners. Working with Saliceallows us to take what has become a phenomenal event platform to even more prestigious heights."
Corporate Comm India(CCI Newswire)