The complex was recognized as the best developer project of a high-rise residential building.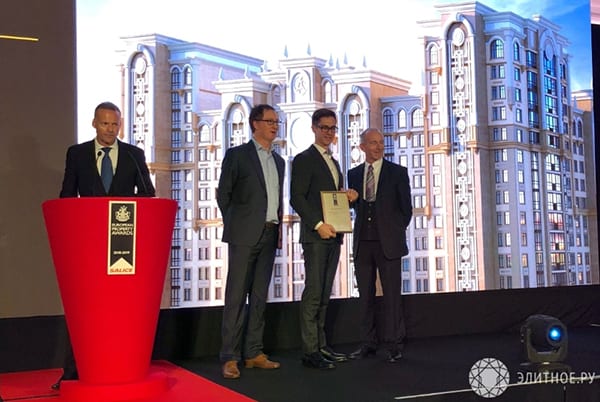 Last week, October 25, the UK summed up the results of the 25th annual international competition European Property Awards 2018-2019. At the ceremony in London (on the photo) the project finalists were awarded. In addition, the absolute winners were announced for the first time and they were assigned the status of "five star winner".
The capital residential complex "Dynasty" , implemented by the Sezar Group, was recognized as the best development project of a high-rise residential building and winner in the category "The best architecture of a high-rise residential building. According to the results of this stage of the competition, Dynasty was nominated for participation in the final stage of the International Property Awards, where it will compete for the title of the best real estate development project in the world.
"Dynasty" will appear on Khodynka. The project includes three houses of variable height from 21 to 24 floors. The concept of the new building is a "business class without compromise", which includes monumental classical architecture, luxurious lobbies, high-quality engineering systems and corresponding to the class footage. The buildings located along the perimeter of the plot form a closed courtyard of two hectares. The territory is a "park of rest in miniature". Both underground levels are occupied by parking.
Sezar Group is a developer working in the market since 2003, and since 2012 in the residential real estate segment. The completed project is a residential complex of comfort class "Nikolin Park" in New Moscow. More than 800 thousand square meters are under development. square meters, including the new Rasskazovo comfort-class building, which includes the integrated development of the territory in New Moscow, and the Dynasty business-class project in the CAO.
European Property Awards is an independent international professional project. In 2018, more than 500 European objects became participants in the competition. During the European Property Awards, they provided complete information: documentation, technical parameters, design concept, justification of the ideas implemented, as well as ecologically friendly and energy efficient. All criteria were evaluated by a group of experts on a scale, and the final assessment was summarized. The jury is represented by 80 industry experts led by members of the House of Lords of the UK Parliament.
Source: