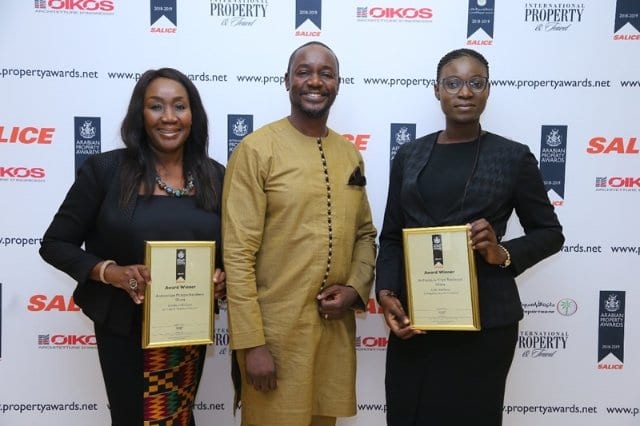 The just-ended Africa and Arabia Property Awards ceremony held in Dubai saw Incept Architectural Consult- IAC, one of Ghana's leading architectural firms, win two prestigious honours in the Architecture Multiple Residence and the Architecture Single Residence categories.
The awards ceremony, already in its 25th year, is one of the largest, most prestigious and widely recognised programmes, that celebrates the highest levels of achievement by companies operating in real estate, architecture, interior design and property management within Africa and the Middle East region and who will later compete with other regions in various categories as part of the International Property Awards.
The judging panel was chaired by Lord Caithness, Lord Best, The Earl of Liverpool and Lord Thurso, members of the House of Lords in the UK Parliament and an independent panel of 80 industry experts who focus on design, quality, service, innovation, originality and commitment to sustainability.
IAC's two designs were the luxurious Glenshire Hills Estate, located in the Burma Hills Area which constitutes a gated community of 30 contemporary cuboid-designed homes within a garden oasis across six acres.
The second award was for 'the Rwenzori', a family house perched in the Akropong Hills; an innovative design concept which honours space and light, a true testament to green, tropical architecture and an icon within the peaceful green environment in which it is set.
The awards ceremony, held in the magnificent Waldorf Astoria Palm Jumeirah Hotel in Dubai also played host to the IPAX Africa & Arabia exhibition where top industry suppliers were at hand to showcase their products and services, while delegates networked with the very best industry professionals and decision makers across the Africa and Arabia regions
In an interview at the end of the ceremony, the Principal Architect of IAC, Mr Cecil Abbey, said: "It was indeed a moment of pride for the firm to win the international awards and be counted among some of the top brands in the real estate industry".
This recognition, he stated, further validated the competence and efforts that home-grown Ghanaian architectural firms and architects could produce which matched international standards. The awards, he added, had inspired his team to keep striving for greater heights of excellence in order to continuously place Ghana on the map of global architectural excellence.
Source: