Hamptons International has won two top honours at the International Property Awards 2018 for 'Best Property Consultancy' and 'Best Consultancy Website'.
At a gala award ceremony held in Dubai, Mohab Samak, General Manager, and Ahmad Al-Majali, Sales Manager of Hamptons International, received the awards. The International Property Awards are evaluated by a team of professionals who are experienced in all property disciplines.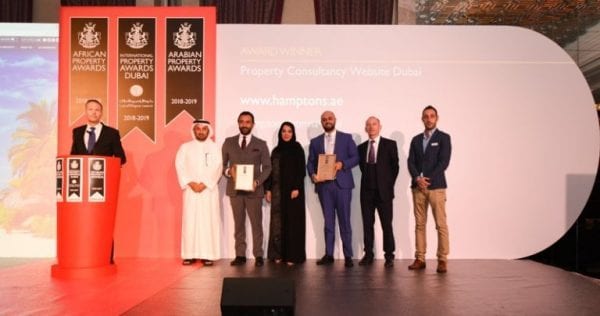 Mohab Samak said: "The top recognition as the 'Best Property Consultancy' for Hamptons International highlights our strengths in delivering the entire breadth of property services and the value-added consultancy and advisory services we provide through our team of international professionals. With our strong online presence, which has won us the 'Best Consultancy Website' award too, we are engaging with customers in real time, including international investors, offering them informed insights on investing, buying, selling and managing property in the UAE. The awards reflect the professionalism, commitment and industry knowledge of our entire team."
Hamptons International, in 2017, also won the Dubai Land Department award for undertaking the most number of real estate transactions.
Source: