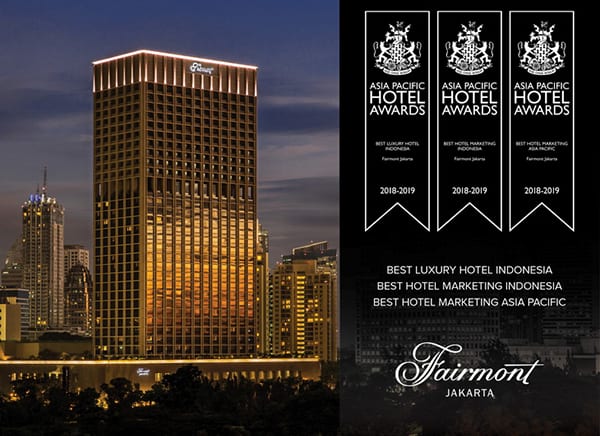 The International Hotel Awards 2018, recognising and determining the finest hotels and hospitality companies in the world, has awarded Fairmont Jakarta a new title to showcase to their many happy guests.
Fairmont Jakarta was recently awarded four awards – the title of Best Luxury Hotel in Indonesia, two Best Hotel Marketing awards, one for Indonesia and one for Asia Pacific, and a recognition of International Five Star Hotel. The International Hotel Awards was held in early May at a glittering gala dinner at a five star hotel in Bangkok. All these awards come from the dedicated and talented service Fairmont Jakarta is known for and the various prestigious events that were the talk of the town.
Located in Senayan Square, Fairmont Jakarta provides luxurious convenience to its guests and offers 308 well-appointed guest rooms and suites, 108 Sky Suites, 10 distinctive restaurants, bars and lounge as well as easy access to all the best happenings in the Jakarta area.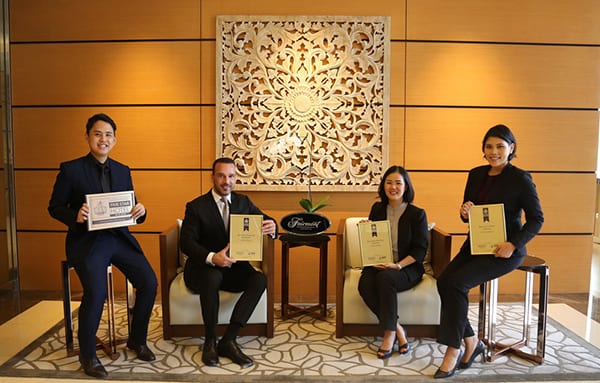 With is prime location and excellent service, it's no surprise the Fairmont Jakarta has been recognised for their excellence. There have been various events that help bring guests to a whole other level of luxury, for instance in September 2017 when Fairmont Jakarta hosted their first series of "When Jakarta Meets" with the first stop being "When Jakarta Meets London".
Collaborating with their sister hotel, The Savoy, in London, Fairmont Jakarta flew their executive chef, pastry chef and mixologist and offered guests different offerings, from British Afternoon Tea, cocktail night, 'Be A Bond Girl' party to a British gastronomic experience, that helped cement relationships and make a new name for luxurious events in Jakarta. Fairmont Jakarta has always paired their high class events with luxury name brands to enhance the experience, such as BVLGARI, Bentley, Jaguar, The Time Place, and many more.
Their most recent event was the beautiful and wonderful "Royal Wedding Celebration at Fairmont Jakarta" in honour of Prince Harry and Meghan Markle. In late 2018, Fairmont Jakarta will host a "When Jakarta Meets the USA" series event.
The International Hotel Award holds 17 categories and the 5-star awards for each category are awarded on a national level before going to the regional level. Fairmont Jakarta is the place to experience luxury in the heart of Jakarta.