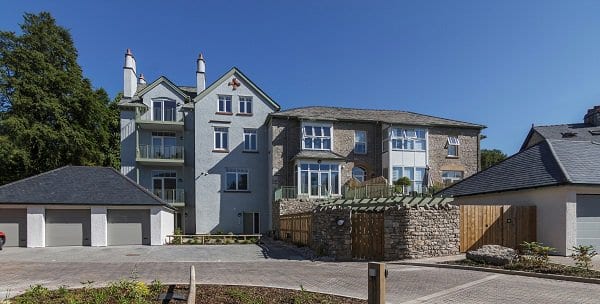 Cumbria-based housebuilder Russell Armer Homes has notched up a prestigious win in the United Kingdom Property Awards 2018-2019.Kendal development Tenterfield captured the imagination of award judges in the hotly contested category of Best Residential Development (Cumbria), securing a well-deserved win for the Russell Armer team.
Located on Brigsteer Road, Tenterfield is a sympathetic development comprising eighteen homes – including two affordable homes – with a traditional aspect on a mature landscaped setting in a leafy Kendal Conservation Area. It's a fine example of the sensitive transformation of an established site into a well-planned collection of houses and apartments with additional high-quality new builds that offer residents contemporary, energy-efficient living spaces.
Russell Armer Homes Architect, Richard Wood: "We're delighted by this win as it's a prestigious award category that attracts top-quality entries. We're especially proud of the effort that's gone into creating an attractive development that preserves the original building's charm, while providing characterful contemporary accommodation. From being a neglected and dilapidated plot, Tenterfield now makes the most of this beautiful setting and is home to a new generation of residents."
The official presentation of the Awards will take place at the The Royal Lancaster Hotel, London on the 26th October 2018. The highest scoring five-star winners from each category of these will be automatically put forward for re-judging against the five-star winners in other regions of the world – Asia Pacific, Americas, Europe, Africa and Arabia.
Source: