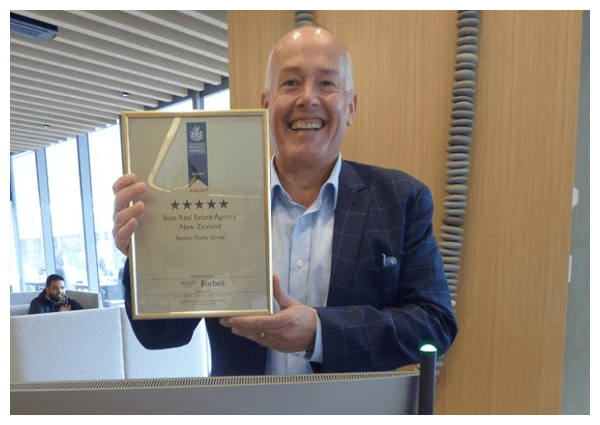 Source:
Bayleys Realty Group was named Best Real Estate Agency in New Zealand at the Asia Pacific Property Awards 2018 in Bangkok last week.
Bayleys general manager Greg Hornblow with the prestigious 'Best Real Estate Agency New Zealand' award.
Bayleys will now represent the Asia Pacific region at the prestigious International Property Awards in London in December where the agency will be vying for the Best International Real Estate Agency prize.
The International Property Awards are open to residential and commercial property professionals from around the globe and are judged by an independent panel of over 80 of the world's leading property experts.
The awards celebrate the highest levels of achievement by companies operating in all sectors of the property and real estate industries including architecture, interior design, marketing, and property development and are a world-renowned mark of excellence.
Bayleys Realty Group general manager Greg Hornblow was in Bangkok to receive the award. "Our whole Bayleys team should be very proud that their commitment to their clients has been recognised by the international panel of judges," he said.
Hornblow believes the family values instilled by the Bayleys' founders play a large part in the company's success. "We are one big family at Bayleys and as the most connected real estate company in New Zealand, we're able to provide a superior level of service to our clients. This is what sets us apart," he said.
In addition to the prestigious win, Bayleys was named as a finalist in the Best Real Estate Agency Marketing New Zealand, and Best Real Estate Agency over 20 offices New Zealand categories.
The Asia Pacific Property Awards are the largest, most prestigious, and widely recognised programme throughout the region. The awards are in their 25th year and cover over 45 different residential and commercial categories.