BANGKOK, May 23, 2018 /PRNewswire/ — Sansiri Public Company Limited, Thailand's leading full-service real estate developer, has just been honoured at the Asia Pacific Property Awards 2018-2019, for their project 98 WIRELESS in the Residential Property category for Thailand. 98 WIRELESS is Sansiri's latest flagship condominium, on Wireless Road, the most prestigious road in the heart of the city. It has been meticulously designed and detailed, with only the finest materials sourced from the best possible producers of the world, gracing every exterior and interior surface.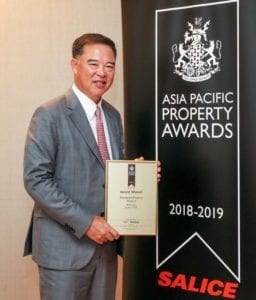 98 WIRELESS by Sansiri PLC, inspired from classical European-influenced Beaux-Arts style, was constructed by a team of professional designers, consultants, and craftsmen that was recruited from around the world to ensure perfection for the super-luxury residence and ensure international standard would be exceeded. Bringing state-of-the-art design to the project, the award-winning team at Design Worldwide Partnership (DWP) worked with well-known New York-based designer, Anne Carson, specializing in flagship interior design, along with global boutique brand, Ralph Lauren, collaborated in designing and supervising the overall decorations to ensure the flawless finish of the residence. The finishing touch on the walls and ceilings is the work of Hyde Park Mouldings, a world-renowned name for custom plaster mouldings and ornaments that have been utilised in many global landmarks, such as Buckingham Palace, the White House, the Metropolitan Museum New York, and numerous top-tier hotels. A selection of world-renowned materials and brands, such as the world-famous Statuario marble carefully chosen from a quarry in Italy; home fittings and furnishings, included 100% hand-crafted brass handle and lock systems on the doors by Baldwin, SieMatic kitchenware with Gaggenau appliances, Sub-Zero built-in refrigerators and wine cabinets, sanitary ware by Kallista, and bathroom faucets by Lefroy Brooks. And in recognition of the environmental efficiency and sustainability of its design, 98 Wireless received the prestigious LEED certification from the United States Green Building Council.
As one of South-East Asia's most luxurious condominiums, it is suffice to say that, 'The Best Comes as Standard', the ethos that has resulted in the perfection found at 98 WIRELESS.
This achievement is recognised as a mark of excellence for property and industry professionals. The Awards are judged by an independent panel of 80 industry experts. Judging criteria focuses on design, quality, service, innovation, originality, and commitment to sustainability. The judging panel is chaired by Lord Caithness, Lord Best, The Earl of Liverpool, and Lord Thurso, members of the House of Lords in the UK Parliament. Around for 25 years, The Asia Pacific Property Awards is one of the largest and most acclaimed industry award throughout the region, and are staged in Arabia, Europe, Africa, Canada, Central & South America, the Caribbean, USA, UK and Asia Pacific.